U.S. Gold (Pre-1933)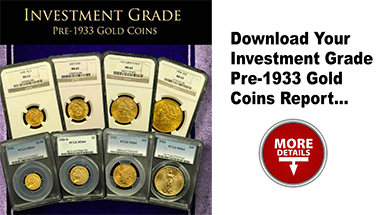 Smart gold buyers understand the wisdom in adding to their modern bullion coins by diversifying into other market segments that offer additional profit potential like older US Gold Coins.

In 1933, President Roosevelt ceased the production of U.S. Gold Coins and confiscated those already in circulation. When gold ownership was finally legalized again in 1974, the Pre-1933 U.S. Gold Coin Market was created. "Investment-Grade" Gold refers to coins from this era that are more available than their truly rare counterparts and, therefore, can be acquired in high-uncirculated quality (MS-62 to MS-66 grades, explained below) at affordable prices. Investment-Grade Coins must be certified by either PCGS or NGC, the only two trusted grading companies in the business who seal each coin in a rectangular plastic case or "slab".

"Raw" or "uncertified" gold refers to Pre-`33 coins in lower-uncirculated and circulated quality that don't necessitate PCGS/NGC grading and offer lower price-points closer to their bullion counterparts. We've specialized in Pre-1933 US Gold Coins for over 30 years, so we can help you with the learning curve. Whether you need a full education or just a have a couple of questions, please call us at 1-800-928-6468.
Items 13 to 24 of 54 total
Grid List
What is a Vintage U.S. Gold Coin Due to the federal government recall order by President Franklin D. Roosevelt on January 30, 1934 Pre 1933 gold coins were confiscated from American citizens. Those that managed to survive are vintage U.S. coins fixed at an extremely limited supply and well sought after by coin collectors and investors alike around the globe. These vintage U.S Gold coins include the popular Saint-Gaudens Gold Double Eagle Coin beautifully depicting Lady Liberty holding an olive branch in one hand and a torch in the other on the obverse and an eagle in flight, backed by rays from the sun on the reverse. Another vintage U.S. gold coin is the Gold Indian Head Coins designed with a Native American in full headdress on the obverse side and a bald eagle perched on wood on the reverse. Your vintage gold coin collection wouldn't be complete without a Liberty Gold Double Eagle. These once very common American Gold coins were loved for their attractive design featuring Lady Liberty surrounded by 13 stars on the and a bald eagle with wings extended on the reverse. Please call or email a Rare Coin advisor at Austin Rare Coins & Bullion… we are knowledgeable and happy to help with your goals and objectives. When it comes to rare coins, our name speaks for itself! At Austin Rare Coins, we pride ourselves on offering the best deals on a wide selection of great options that have been certified by PCGS and NGC. We update our inventory regularly, so be sure to check back often. Don't see what you're looking for? Not a problem. Contact us today at 1-800-928-6468 and we'd be happy to help you find the right item for your collection.