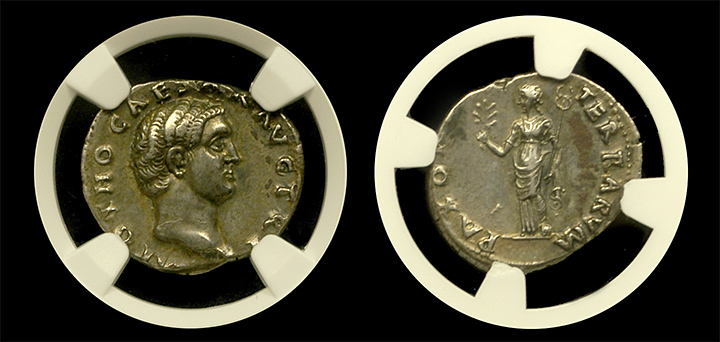 What Ancient Roman coins were made of silver is a question we frequently get. This NGC Certified Roman coin minted by Emperor Otho for instance, is a great example, and it is a beautiful coin. Finding a Silver Denarius in Choice Extremely Fine Condition with 3.54 grams of silver is not an easy task.
On the front of this Otho Silver Denarius you'll find the likeness of Emperor OTHO CAESAR with his head facing right. On the reverse, seen advancing left, you'll find the likeness of VICTORIA. She is the Roman Goddess of Victory.
Marcus Otho Caesar Augustus was born Marcus Salvius Otho in the year 28 AD. He was Roman emperor, but only for three months, and in addition his life ended tragically. Two weeks shy of his thirty-seventh birthday Otho took his own life. In conclusion, by stabbing himself with a dagger Otho's reign ranks as one of the briefest in the history of the Roman Empire.

This coin is an excellent example of one of the least known Roman Emperors. Examples of coins from Emperor Otho are rare because of two reasons. Firstly because he only was emperor for 3 months and secondly because most found were badly damaged. We are lucky to have this Choice Extremely Fine grade and able to share it with you.
Otho denarii are quite scarce and extremely difficult to find. For this reason only around 300 of these coins have been certified, and none in Mint State.
Several Ancient Roman coins were made of silver including the popular Silver Denarius silver coin, however the base silver coin was the Sestertius. In conclusion, there were many types of Roman silver coins. They spanned the 482 years as a Roman Republic, 503 years as the Roman Empire, and 1131 years as the Byzantine Empire.