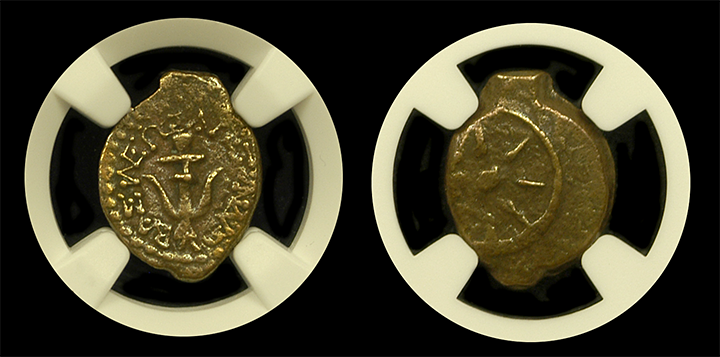 New Testament has reference to Biblical-Era Judean Bronze Prutahs coins. These coins had a more common name due to a very well known biblical story.

42 And there came a certain poor widow, and she threw in two mites, which make a farthing.
44 For all they did cast in of their abundance; but she of her want did cast in all that she had, even all her living.
In the Bible, Marks 12:42, 44, there is a reference to Biblical-Era Judean Bronze Prutahs commonly called "Widow's Mites." In fact, the Bible refers to a poor woman donating all the money she had, which was two Mites. In other words, she was a widow that gave all the money she had to Jesus.
These Biblical-Era Judean Bronze Prutahs still had yet another name. In addition, Widows Mite's were also known as a "Lepton." These bronze coins were the smallest denomination of currency used.
At the time of Mark's writing, one mite was worth 1/64th of a silver denarius. A denarius was a day's wage for a common worker. In today's terms, it would be worth about 1/8th of a cent.
Bronze Prutahs commonly called Widow's Mites
Most Bronze Prutahs or Widow's Mites that you encounter today are very worn with most of the fine detail gone. On the other hand, at Austin Rare Coins you can find some that are far nicer than most encountered. Above all, each coin offered by Austin Rare Coins is graded by NGC Ancients in Choice Very Fine condition. Therefore, each coin being offered is certified authentic and over 1,900 years old.
You will find Bronze Prutahs or Widow's Mites vary in their look and design. In fact, several different styles are being offered from this collection. However, not to worry, all mites being offered are indicative of the quality you can expect.
Be sure to check out the video below... Afterwards, if you have any question just contact an Ancient Coins Advisor at Austin Rare Coins at 1-800-928-6468.