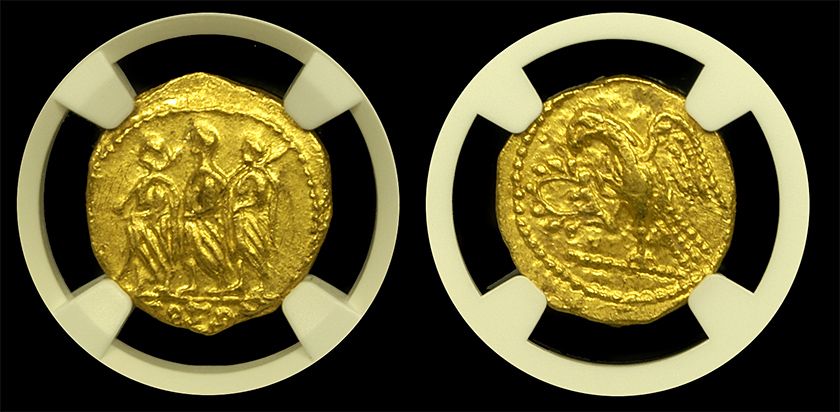 This Beautiful Ancient Coin
If some asks "why buy a Coson Gold Stater" you can answer, because you're looking for remarkable ancient coins. One that is gold and has tremendous value in the ancient coin market place. You can also tell them to just take a look at this beautiful ancient coin. Then show them the Coson Gold Staters in Mint State 4x4 Condition.
Some Coin Highlights
These coins have a quarter of an ounce of pure gold and were struck around 2,000 years ago.
They are certified by NGC, a branch of Numismatic Guaranty Corporation devoted to ancient coins.
They are in mint state condition and for under $2,000.
What is on these coins?
The obverse of this coin depicts 3 soldiers in procession and is very impressive. On the reverse you'll find an intricate design of an Eagle holding an Olive wreath, so both sides are incredible.
Is this the only one?
These coins are newly acquired and we have 3 available. If you are interested and you have any questions just give us a call. You can also go directly to the website page to purchase one of these.
Some great views of this coin:
Collectors always love to own what other people can't have.
Quality, rarity, and price are the most important factors to consider before you purchase any beautiful Ancient Coin. Other factors are also important like eye appeal, artistic merit, historical significance, and precise state of preservation, so buyer beware.

The Ancient Coin Market has been hot in the last few years and moving into what we believe is a bull market cycle. At any point in time, certain beautiful Ancient Coins may be performing very well while other areas may be quiet. That's why it's important to talk to an Ancient Coin Advisor at Austin Rare Coins.
Some collectors will prefer to focus on the hottest areas of the market while investors may be "value seekers" looking for the best quality coins. So when someone asks you, why buy a Coson Gold Stater? You can say because Austin Rare Coins has some great offers on them. Whatever beautiful Ancient Coin you desire... it should be the best deal and bang for the buck.
For all the facts on the history of the Ancient Rare Coin market, order our free Ancient Coins Buyer's Guide today!