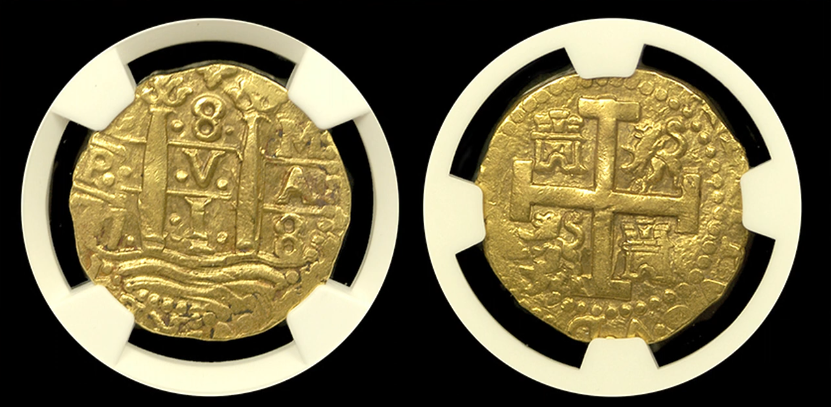 Spanish Colonial gold coins salvaged from the 1715 Fleet off the east coast of Florida are called Gold Cobs. Gold Cobs are the original Doubloons. Therefore, the Doubloon is a solid gold coin. Even though the Spanish called their gold coins Escudos, Doubloon became the nickname for a two Escudo coin. In addition, the word Doubloon is actually taken from pirates calling these two Escudos "double-one," which turned into "Doubloon."
As commerce increased between North America and South America so did the need for coins. Spanish Gold Cobs were minted from the early 1600s to the early 1800s. They were minted in Bolivia, Chile, Columbia, Guatemala, Mexico, and Peru and were circulated as far north as Canada. Pirates sought after these Gold Cobs. Because, Gold Cobs are The Original Doubloons. In fact, they would attack and sink Spanish Colony ships just to get their gold. As a result, coins circulating freely during the colonial period of the New World, became easy targets.
1718 Peruvian 8 Escudo
Check out this absolutely remarkable gold coin in the video below. It's a Peruvian gold 8 Escudo that was struck in Lima Peru in 1718. Additionally, it is one of only 4 coins like this certified by NGC in all grades combined. Above all, it is the finest known and certified in Mint State. This coin contains just about an ounce of pure Spanish gold.
The obverse shows the pillars of Hercules with ocean waves below it and a tick-tac-toe imagery of letters and numbers signifying when and where the coins was made. This 1718 Peruvian 8 Escudo has a Jerusalem Cross on the reverse with castles and lions in the four corners. Coins like this are extremely desirable for collectors and investors. This is one of the finest we have ever seen.

If you are interested in finding out more about this coins and others like it check out this page or call and talk to a Rare Coins Advisor at Austin Rare Coins at 1-800-928-6468.