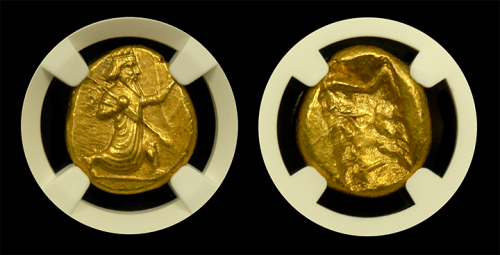 An ancient Persian Gold Daric is a high-purity gold piece and weighs approximately 8.4 grams. This weight is based on an ancient weight standard.
The Daric was also referred to as a Babylonian shekel. It was called a shekel because it was equivalent to one month's pay for a mercenary foot soldier. We know what Persian Darics were used for. Persian Darics were some of the first coins ever used as currency. Currency was a new concept, because in ancient times bartering was the norm.
One daric could be exchanged for 20 silver sigloi. This was a daric's silver currency counterpart. It was a period in the ancient world that the concept of currency as trade started. Archeologist unearthed hoards of darics and sigloi from Sicily to Afghanistan. This area was all part of the former Persian Empire. It was also proof that the concept of currency spread quickly.
Unique Persian Gold Daric
Our video below shows a unique Persian Gold Daric. It is from the Achaemenid Empire, c.5th Century BC. However, it is slightly different than virtually every other Daric. There have been thousands of typical ones found. Furthermore, only recently were new coins like the one below uncovered in Turkey.
10 Gold Darics were found with a formerly unused symbol. Usually there is a king with bows, arrows, and daggers. For the very first time we see the use of a cross underneath the king.
Some PhD's suggest it's a crucifix. Not to symbolize Christ. Jesus Christ didn't come around for another 400 years. These experts believe it symbolizes the mighty Persian army crucifying those who would not obey them.
Ideas are swirling! Other experts have suggested the symbol is an anchor. In addition, they believe it refers to the Persian naval fleets. In conclusion, we may never know. We do know what Persian Darics were used for. It was the first time coins were used for currency and trade. After that, we are not too sure. Most importantly, why was a cross stamped on only a few examples and only recently found.
Could the cross have been stamped to send a message to the people and was it for propaganda? These questions and discoveries are what makes ancient coins so much more fun to collect!