IRA Allowable Precious Metals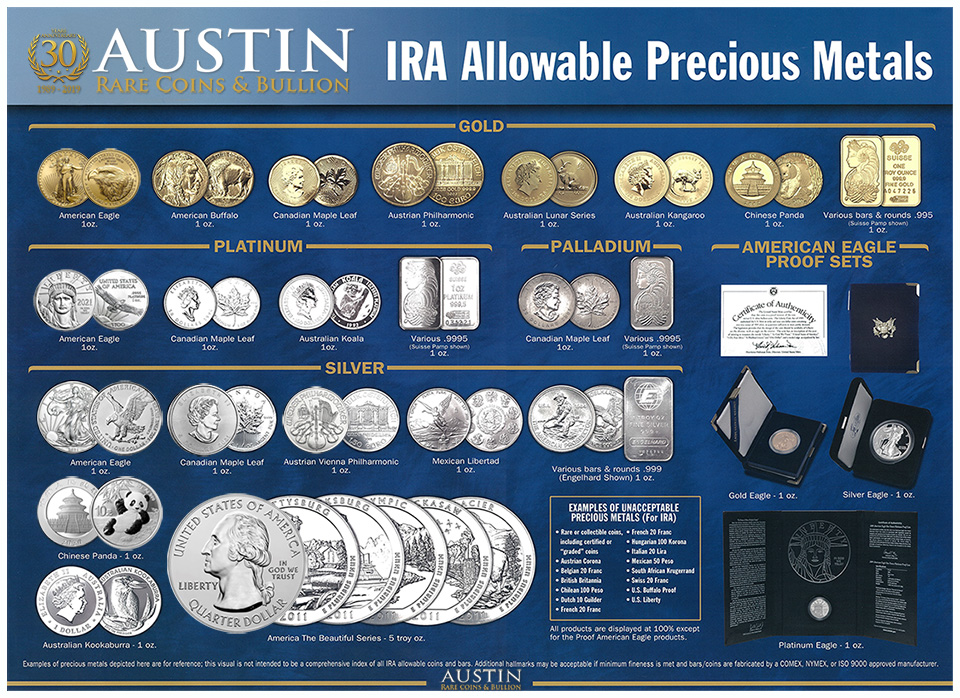 Allowable Precious Metals to your PM IRAs ~ Download Chart

Popular Bullion Products Allowed in IRAs
American Eagle Gold Coins
American Buffalo Gold Coins
Australian Gold Coins
Australian Lunar Gold Coins
Austrian Philharmonic Gold Coins
Canadian Gold Maple Leaf Coins
China Gold Panda Coins
Gold Bars and Gold Rounds produced by a refiner/assayer/manufacturer accredited/certified by NYMEX/COMEX, NYSE/Liffe, LME, LBMA, LPPM, TOCOM, ISO 9000, or national government mint and meeting minimum fineness requirements
American Eagle Silver Dollars
American Eagle Silver Dollar Proof Coins
America the Beautiful Silver Bullion Coins
Australian Silver Coins
Austrian Philharmonic Silver Coins
Canadian Maple Leaf Silver Coins
Silver Bars and Silver Rounds produced by a refiner/assayer/manufacturer accredited/certified by NYMEX/COMEX, NYSE/Liffe, LME, LBMA, LPPM, TOCOM, ISO 9000, or national government mint and meeting minimum fineness requirements
Platinum
American Eagle Platinum Bullion Coins
American Eagle Platinum Proof Coins
Platinum Aussie Coins
Canadian Maple Leaf Platinum Coins
Platinum Bars and Platinum Rounds produced by a refiner/assayer/manufacturer accredited/certified by NYMEX/COMEX, NYSE/Liffe, LME, LBMA, LPPM, TOCOM, ISO 9000, or national government mint and meeting minimum fineness requirements


Palladium
Canadian Maple Leaf Palladium Coins
Palladium Bars and Palladium Rounds produced by a refiner/assayer/manufacturer accredited/certified by NYMEX/COMEX, NYSE/Liffe, LME, LBMA, LPPM, TOCOM, ISO 9000, or national government mint and meeting minimum fineness requirements

Examples of unacceptable precious metals products
Austrian Corona and Ducat
Belgian Franc
Gold British Sovereign and Britannia
Chilean Peso
Columbian Peso
Dutch Guilder
French Franc Gold Coins
German Mark
Hungarian Korona
Italian Lira
Mexican Peso and Ounza
South African Krugerrand Gold Coins
Swiss Franc Gold Coins
Rare Coins or Collectible Coins

Notes:
1) Numismatic and American Eagle Gold Coins or American Eagle Silver Dollars that have undergone "certification" (also known as "slabbed" coins) are not acceptable in IRAs at this time.
2) Only bullion type American Buffalo Gold Coins and America the Beautiful Silver Coins are allowed (i.e., no Proof/Collectible coins are allowed.)
3) Minimum Fineness Required: Gold: 99.5% Silver: 99.9% Platinum: 99.95% Palladium: 99.95%
4) Small bullion bars (i.e., bars other than 400-ounce gold, 100-ounce gold, 1000-ounce silver; 50-ounce platinum and 100-ounce palladium bars) must be manufactured to exact weight specifications.