America the Beautiful Coins
America the Beautiful five ounce silver coins are the largest coins the US Mint has ever issued. The "ATB" series, which started in 2010, concluded in 2021.

Because ATB silver bullion coins were struck in much lower quantities than any other bullion item issued by the US Mint, they were hard to find during their initial release. Today, they have become very difficult for us to offer with any regularity, due to their scarcity and especially since they're no longer being issued.

Some of the rarer, lower mintage issues or more popular designs trade at a substantial premium to their intrinsic silver value and are highly prized by collectors and investors. For these reasons, it is difficult for Austin Rare Coins to have a constant, ongoing inventory of this product. Many of the coins we acquire are immediately placed with current clients looking to complete their sets, so they rarely make it to our website for sale. (see more info about "Coins released" in the Wikipedia Chart below...)

Interested? Please keep in mind that if there is a particular issue that you're looking to acquire, simply give us a call at 1-800-928-6468 and let us know. Many times, through our network of existing clients, we can help you find the America the Beautiful you're after. We would be happy to help.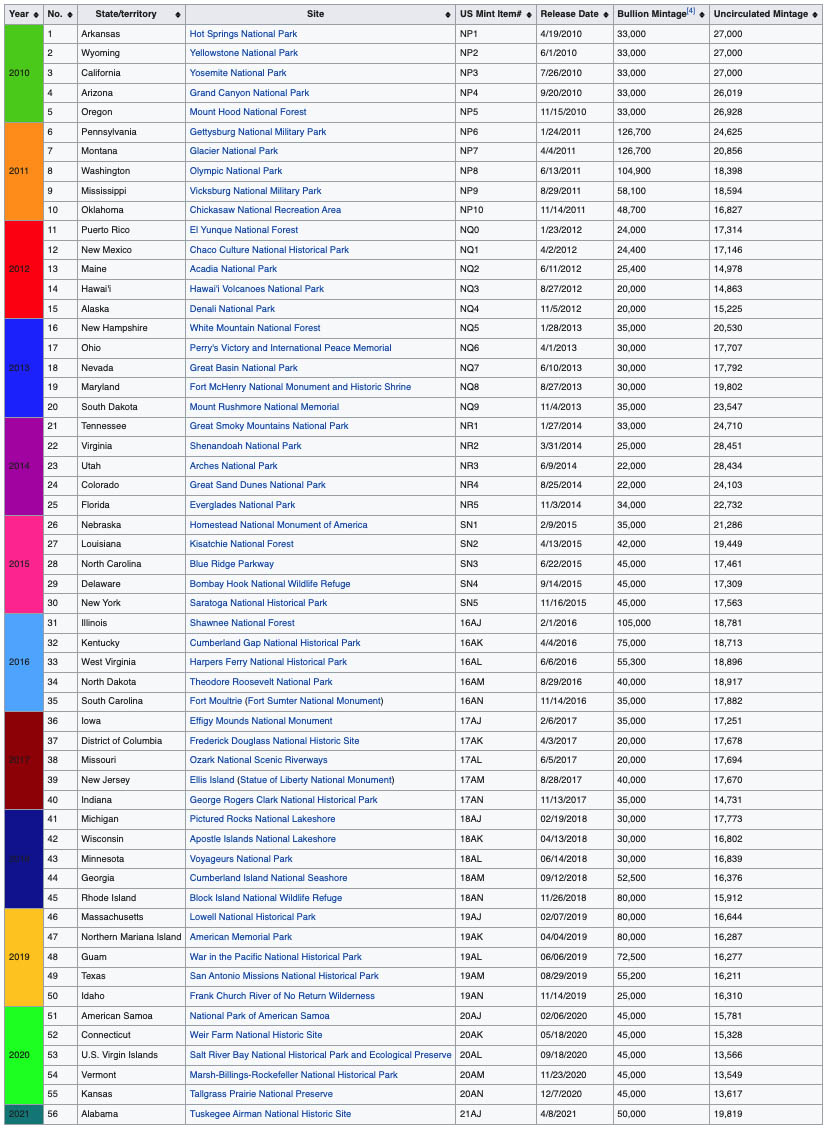 Chart courtesy of Wikipedia
A complete set consists of 56 different designs from parks across the nation. Typically, five designs were issued each year with each coin depicting a different design type. During their regular releases, the ATB bullion coins came in mint rolls of ten and sealed cases of ten tubes per case.
The US Mint also offered a collector coin of higher quality, referred to as an "uncirculated" version, which had fine detailing and a stunning overall appearance, far nicer than the regular bullion issues.