1) Who is New Direction IRA?
New Direction IRA is a trusted provider of investor education for retirement accounts and HSAs. The services provided enable individual investors to take control of their tax-advantaged accounts using alternative asset opportunities ideally suited to each investor's goals and investment style. New Direction IRA has over a decade of experience in asset acquisitions, leads the self-directed IRA industry in technology, and has a proven track record for providing clients with quality service.
2) What do I need to get started?
Step 1 — It takes New Direction IRA one to two business days to open your account once your application is submitted. During the application process, you will elect how you would like to fund your account, either by a rollover, transfer, and/or contribution.

Step 2 — Choose a depository - The IRS requires that metals remain in control of the administrator/custodian in order for the asset to maintain a tax-advantaged status.

Step 3 — Complete a Buy Direction Letter and Depository Election Form and submit the forms to NDIRA.

Step 4 — Agree on a purchase with the dealer. The dealer will send an invoice to NDIRA.

Step 5 — NDIRA pays the dealer from your IRA funds. NDIRA sets up an account at the depository in the name of your IRA. The metals are then shipped by dealer to the depository.
3) What fees are needed to open an account?
A one time IRA set up fee of $50 is due at the time of account establishment.
4) Where are the Precious Metals stored?
Your IRA's precious metals cannot be held by you individually. You must elect a depository to store your metals. New Direction IRA does not endorse any depository. You are free to choose the depository that best fits your needs. We can work with any depository that you choose.
5) What Can I Own in my Precious Metals IRA?
Gold: American Eagle bullion and/or proof coins in original government packaging (OGP), American Buffalo coins, Australian Kangaroos or Nuggets, Austrian Philharmonics, British Britannia and Canadian Maple Leafs and approved gold bars of various sizes.

Silver: American Eagle bullion and/or proof coins in OGP, America the Beautiful bullion coins, Australian, Austrian, British, Canadian, Mexican or .999 fine bars or rounds that are NYMEX and COMEX approved.

Platinum: American Eagle bullion and/or proof coins in OGP, Australian, Canadian, Isle of Man or NYMEX/COMEX approved bars or rounds.

Palladium: Canadian coins or NYMEX/COMEX bars or rounds.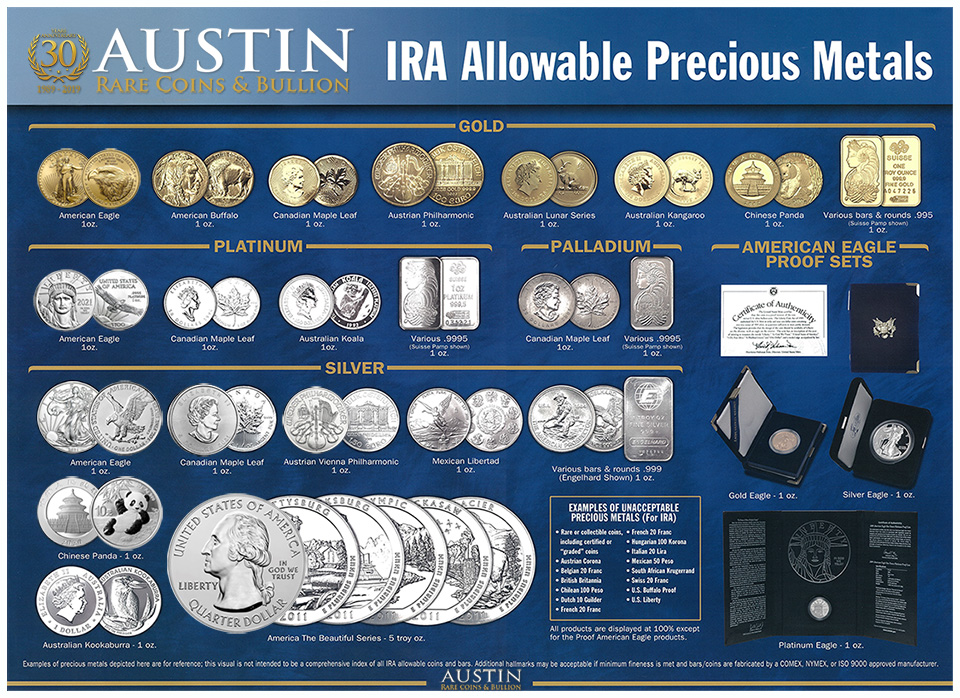 Allowable Precious Metals to your PM IRAs ~
Download Chart
6) Where do I start?