1781 Dated Betts-615 AR Libertas Americana MS62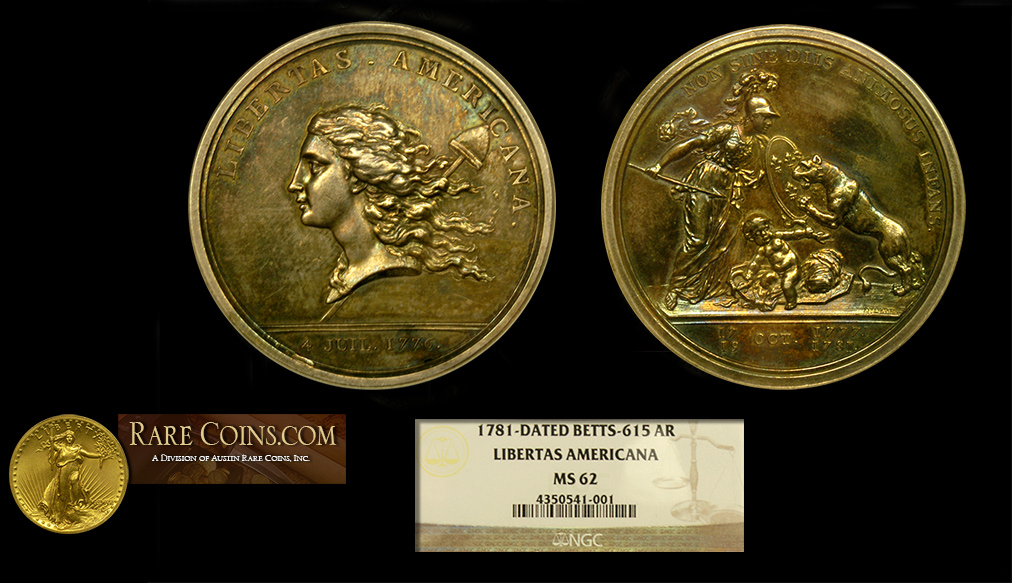 Researching this coin it was discovered that "Benjamin Franklin commissionned this medal to the Paris Mint to celebrate the Peace Treaty between Great Britain and the young United States while honoring as well the Franco-American friendship." - A Selection of Fine World Coins and Medals at NY INC, Waldorf Astoria

This extremely rare silver Libertas Americana is from early colonial USA and is an important numismatic account of American history. Dated in 1781 the obverse has the lettering LIBERTAS. AMERICANA. and has center the head of Lady Liberty facing left with her hair flowing behind. At the bottom of the obverse is the date 4 JUIL. 1776.

The reverse of this historical coin shows Minerva holding a shield with the French Royal "fleur de lys." Minerva is defending an infant Hercules and this is depicted to represent the American Nation. Infant Hercules is holding a serpent in each of his hands to ward off attack from the British Lion... "this from the legend NON SINE DIIS ANIMOSUS INFANS, in ex. 17/19 OCT. 1777 / 1781."