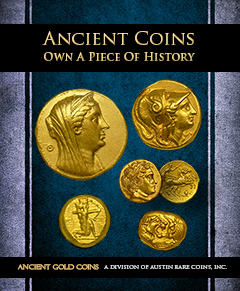 Ancient Greek coinage is known for its amazing beauty and wide variety of artistic style. Most Greek coinage were made using silver, gold, electrum (a naturally occurring alloy of silver and gold), copper alloy, and bronze. Some of the most artistically advanced coins in human history were issued during this time and amazingly struck thousands of years ago.
Download Your Free Ancient Coin Report
Known for their amazing beauty and eclectic styles, ancient Greek coins represent a unique niche in the coin market.

Some of the most visually stunning coins around, ancient Greek coins allow you to literally hold a piece of history in your hand. We pride ourselves on offering an unbeatable selection with the best prices on the market, so shop with confidence knowing that you're getting the best of the best.

As a top name in our industry, Austin Rare Coins prides itself on offering clients the best experience possible. Place your order today.