Ancient Coins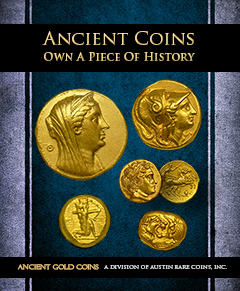 * Understanding Ancient Coin Grading

* Long-Term Increasing Value

* Ancient Coin Timeline
Download Your Free Buyer's Guide
Sometime around 650 B.C. ancient coins made their first appearance. Below you will find some of the oldest, most beautiful, and unique ancient gold and silver coins in our inventory. Learn more here...
When it comes to ancient coins, there are plenty of wonderful options, each with a unique history. Do you prefer ancient Roman coins or ancient Greek coins? Whatever your preferences are, you'll find a great selection here at Austin Rare Coins.

When is the last time you held a piece of history? We are proud to present some of the oldest and most beautiful coins known to man in our collection above.

Don't see the ancient coin you're looking for? Contact us today because our team can help you track it down.