Inventory Clearance Sale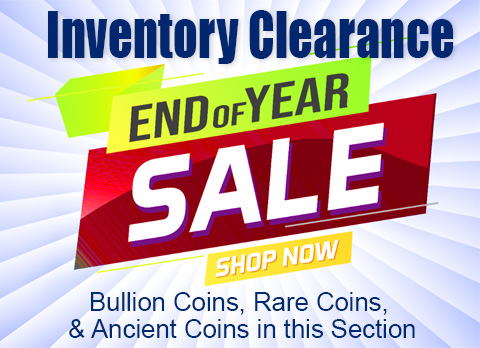 There is still some of last year's inventory that need to be cleared out. The Clearance Sale has been extended so take advantage of this special offer before it is too late. Supplies are limited and prices are slashed to sell so go ahead and order online or call 1-800-928-6468 to speak with one of our Austin Advisors.
Ancient Coin Fall Clearance
On this page, you'll find some Ancient Coins dating back thousands of years. These coins reflect the religion, language, politics, and art of the times. Each coin has been graded by NGC, the most reputable grading service and authority in the ancient coin marketplace. These certified coins are evidence of a time when there were no other means of mass communication other than coinage that served as the newspaper of the day… spreading current events, announcing new and current leaders, religious messages, and also propaganda. Ancient coins have served as historical documents. There are many references to coins in the Bible and in fact, archeologists have been aided by numismatic investigation of ancient coins. These works of art actually give us a better understanding of our past and how precious they are to understanding ancient customs and beliefs. Feel free to talk to one of our Ancient Coin Advisors… They're here to help assist you in finding your Ancient Coins!