Understanding Grading & Certification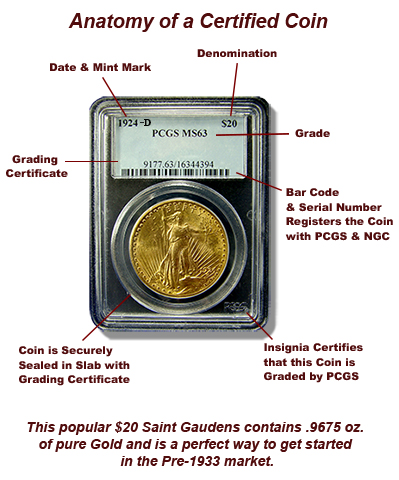 Third – Party Grading And Authentication
Third-Party Grading is a service provided for a fee, an impartial, independent opinion of a coin's grade and authenticity. The grader is neither buyer nor seller, and has no biased interest in the coin's market value. Third-party grading started in the late 1970s with ANACS (then a service of the American Numismatic Association; now privately owned and operated). ANACS graders would examine a coin and, after determining its authenticity, would assign separate grades to its obverse and reverse (such as MS-63/65) and return it to the sender, along with a certificate and photograph.
In 1986 a group of coin dealers launched the Professional Coin Grading Service (PCGS), which grades coins for a fee and hermetically seals them in plastic holders with interior labels. This "slabbing" helps guarantee that a coin and its grade certificate cannot be separated. In 1987 Numismatic Grading Corporation of America (NGC) was started, offering a similar encapsulation service. Both companies guarantee the authenticity and grades of the coins they certify. Coins are judged by consensus, with the graders having no knowledge of who submitted them.
Today the hobby's leading grading firms are NGC (Sarasota, Florida) and PCGS (Newport Beach, California).
Professional grading strives to be completely objective, but coins are graded by humans and not computers. This introduces a subjective element of art as opposed to science. Within a given grade, a keen observer will find coins that are low-quality, average, and high-quality for that grade. Such factors as luster, color, strength of strike, and overall eye appeal can make, for example, one MS-65 1891 Morgan dollar more visually attractive than another with the same grade.
ARCI selects coins based on their level of quality for the grade – in other words, we buy the coin, not the holder. This process builds a better collection than simply accepting a TPG's assigned grades, and is summed up in the guidance of "Buy the coin, not the slab." For example, a certified coin in MS-64 might have greater eye appeal – and therefore be more desirable to a greater number of collectors – than a less attractive coin graded MS-65.


The Sheldon Grading Scale is a 70-point scale for grading coins, developed by Dr. William Sheldon in 1949. The Sheldon Scale is the standard for grading U.S. coins, and is used by the major third party grading services when assigning a grade to a coin.
Business Strike – coin struck for the purpose of becoming circulating coinage and as such intended for commerce, rather than for collectors.
Proof – Typically designed for collectors and not commerce. A specially made coin distinguished by sharpness of detail & usually with a brilliant, mirror-like surface. Proof refers to the method of manufacture and is not a grade. The term implies superior condition unless otherwise noted.
Mint State – The terms Mint State (MS) and Uncirculated (Unc.) are interchangeable and refer to coins showing no trace of wear. Such coins may vary slightly due to minor surface imperfections, as described in the following subdivisions:
Perfect Uncirculated (MS-70) – Perfect new condition, showing no trace of wear. The finest quality possible, with no evidence of scratches, handling, or contact with other coins. Very few circulation-issue coins are ever found in this condition.
Gem Uncirculated (MS-65) – An above-average uncirculated coin that may be brilliant or lightly toned and that has very few contact marks on the surface or rim.
Choice Uncirculated (MS-63) – A coin with some distracting contact marks or blemishes in prime focal areas. Luster may be impaired.
Uncirculated (MS-60) – A coin that has no trace of wear, but which may show a number of contact marks, and whose surface may be spotted or lack some luster.
Choice About Uncirculated (AU-55) – Evidence of friction on high points of design. Most of the mint luster remains.
About Uncirculated (AU-50) – Traces of light wear on many of the high points. At least half of the mint luster is
still present.
Choice Extremely Fine (EF-45) – Light overall wear on the highest points. All design details are very sharp. Some of the mint luster may show.
Extremely Fine (EF-40) – Light wear on the design throughout, but all features are sharp and well defined. Traces of luster may show.
Choice Very Fine (VF-30) – Light, even wear on the surface and highest parts of the design. All lettering and major features are sharp.
Very Fine (VF-20) – Moderate wear on high points of the design. All major details are clear.
Fine (F-12) – Moderate to considerable even wear. The entire design is bold with an overall pleasing appearance.
Very Good (VG-8) – Well-worn with main features clear and bold, although rather flat.
Good (G -4) – Heavily worn, with the design visible but faint in areas. Many details are flat.
About Good (AG-3) – Very heavily worn with portions of the lettering, date, and legend worn smooth. The date may be barely readable.


How to Get Started Today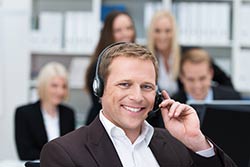 Call Us at 1-800-928-6468
Let our team of Austin Advisors answer all your questions. We can guide you into the best private, non-reportable hard assets to meet your needs and budget.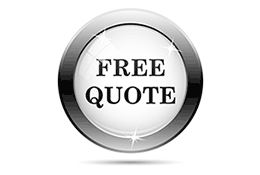 Looking to Sell?
Everyone has different needs and timelines regarding how long they keep their precious metals. Give us an idea of your goals and objectives, we'll customize a detailed evaluation.