Shipwreck Coins
Here we feature gold and and siver coins that have been recovered from various U.S. shipwrecks such as the S.S. Central America Shipwreck, otherwise known as "The Ship of Gold". Over the past two decades we've handled rare coins from the S.S. Brother Jonathan of 1865, the S.S. Republic of 1865, and the S.S. New York of 1845. All of these coins are original, certified shipwreck recovery coins. Austin Rare Coins has been involved with every major shipwreck offering since the S.S. Brother Jonathan was recovered in the 1990's.

We're pleased to announce that we're one of the few dealers who have access to some of the rare fractional gold coins recovered from the 1857 SS Central America shipwreck. Order online now or if you have questions talk to one of our Rare Coin Advisors at 1-800-928-6468. Don't see what you're looking for? Give us a call, we would love to help.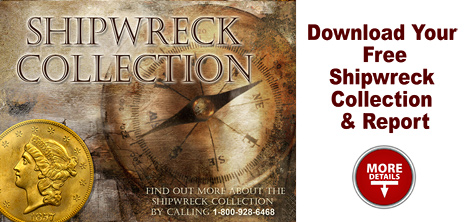 Among the most interesting of rare coins, shipwreck coins are highly sought after because of their unique stories.

Whether it's a coin from the infamous "Ship of Gold" or a different piece of sunken treasure from a bygone era, shipwreck gold and silver offer great value for such an interesting piece.

Need help tracking down a specific item that you don't see on our site? Feel free to contact us today because our team would love the opportunity to help.