Pre-1965 "Junk" Silver Coins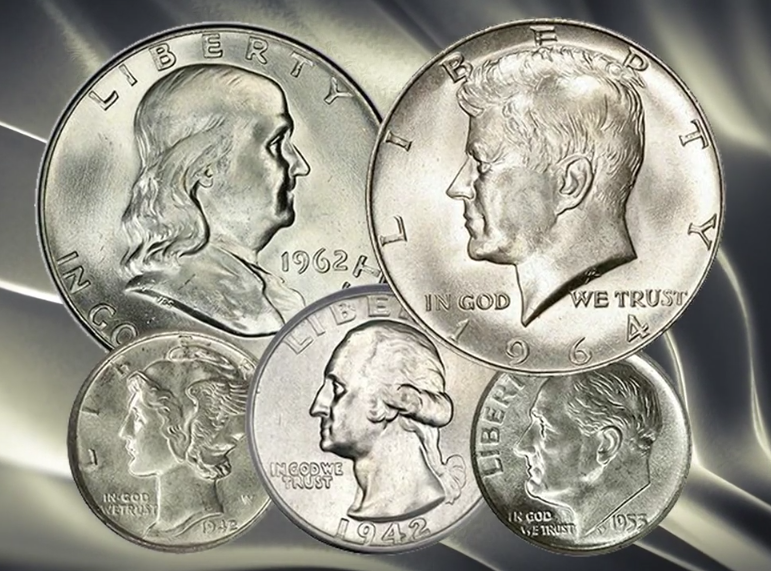 Junk Silver" refers to circulated U.S. Silver Coinage struck in 1964 and prior. Bags typically consist of all dimes or all quarters which have a 90% overall silver content. With their varying weights of less than an ounce of silver, buyers find these smaller coins ideal in a potential barter scenario. Call us for cash and quantity discounts and as always, save 2% with check or bank wire.
The term "Junk Silver" refers to circulated U.S. Silver dimes, quarters, half dollars and silver dollars struck prior to 1965. Prior to 1965 our circulating coinage was comprised of 90% silver and today the value of these coins are directly affected by the price of silver on the world market. Junk silver is an inexpensive way to acquire fractional- sized silver very close to the melt value. "Junk Silver" merely is a colloquial term and while the coins have been circulated in the past, rest assured that these coins are not junk. They have a considerable metal content and melt value, making them an excellent way to invest in fractional-sized silver. Junk silver bags are typically sold in $500 or $1000 "face value" lots, but they can be acquired in smaller increments. To help you understand, a $1000 face value bag of junk silver will contain 2000 half dollars, 4000 quarters, or 10,000 dimes and because of their silver content, the coins are worth quite a bit more than face value because a $1000 bag of junk silver contains about 715 ounces of pure silver. So how can you figure how much junk silver is worth? Let's say the spot price of silver is $20 an ounce. If you take the spot price and multiply it by 715, you get the price of $14,300---this is the MELT value of the silver in the bag. You can also use this formula to figure out the value of individual coins, too. For example, with silver at $20 an ounce, a dime melts for $1.43, a quarter is worth about $3.55, and a half dollar is worth about $7. In regards to circulated silver dollars, these typically carry a premium over their silver content due to their rarity and desirability and the better the grade, the higher the price. Condition doesn't affect the value of dimes, quarters, or half dollars, typically—unless they are a very rare date. We hope this video helps you understand more about junk silver. If you have any questions or would like to learn more about junk silver, give us a call and let an Austin Rare Coins adviser help you get started.