U.S. Pre-`33 Gold Best Buys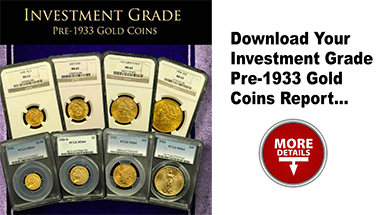 If you're looking for the best values in Pre-1933 certified gold, then look no further. Below you will find what we believe are the best values for the money in this area of the marketplace. Each coin has been graded by either PCGS or NGC. They have also been inspected by our experts to ensure the highest level of quality and eye appeal.
If you can't find the exact coin that you are looking for then just give us a call at 1-800-928-6468 and talk to one of our U.S. Rare Coin Advisors.
When it comes to finding pre-1933 gold coins, your best options are just above. We've spent time cultivating this list of great items that we believe offer an incredible value.

Each of these coins has been expected by our team of experts so you can rest assured that you're getting the best of the best.

Don't see the coin you are looking for? When it comes to rare gold coins, we can help you track it down. Contact us today to get the help you need.