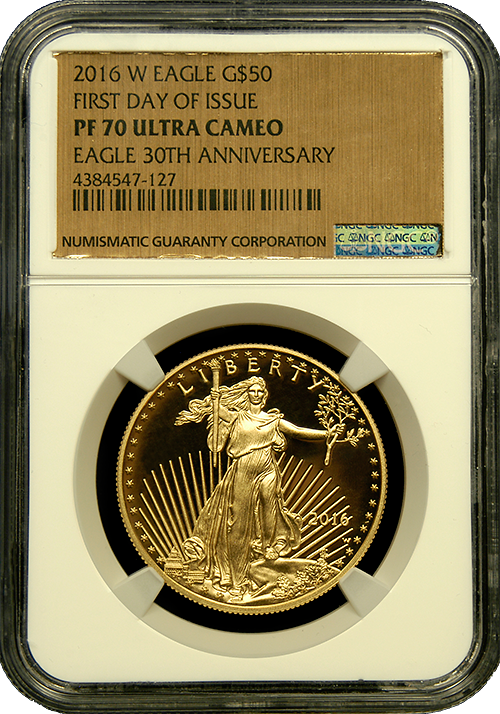 Certified Gold American Eagle | Proof Coin
Making its debut in 1986, the Gold American Eagle coin series became an instant success with investors and collectors around the globe. President Ronald Reagan was the main catalyst to begin the American Eagle series and he signed a bill in 1985 to initiate the design and production of this world-renowned series.
For the first year of production, the US Mint only issued the one ounce Proof Gold American Eagle. In 1987 they added the half-ounce denomination as well, creating a two-coin gold proof set. Beginning in 1988, the mint added the last two sizes, the quarter ounce and tenth ounce sizes, and every year thereafter the US Mint issued Proof Gold American Eagles in four-coin sets, weighing 1.85 ounces in all. Proofs were minted at the West Point Mint (coins carry a "W" mint-mark, and the Philadelphia Mint, which carries no mint-mark.
Starting sometime in the late 1990's, dealers began offering their customers Proof Gold American Eagles that had been certified and graded by PCGS (Professional Coin Grading Service) and NGC (Numismatic Guaranty Corporation), the top two grading services in the industry. Suddenly, the option of Certified Proof Coins, which come in tamper-resistant acrylic slabs, became very popular and kept the coins protected for long-term storage. Most often, coins preserved in the top two grades (near perfect Proof-69 and perfect Proof-70) command a premium to their uncertified counterparts, because they have been deemed to be extremely high-end examples. This added assurance of high-end certification created a robust market for collectors who desired the finest examples available for their collections.




Certified Silver American Eagle | Proof Coin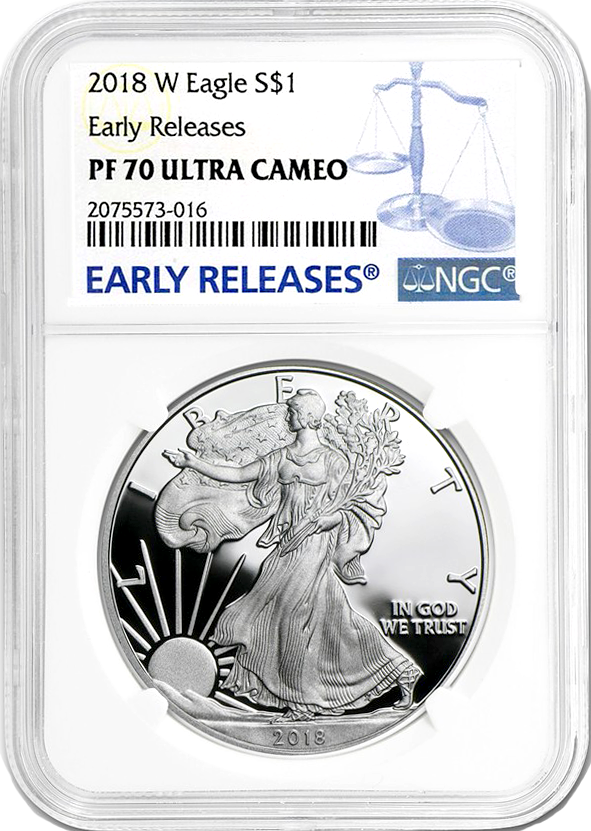 Just like the Gold American Eagle Proof Coins the Silver American Eagle Proof Coins are the collector's version of the official United States silver bullion coin. Instead of being issued in four different sizes, Silver Eagles are issued only in a one-ounce weight.
Silver American Eagles have been produced and sold in both proof and bullion finishes since 1986, just like their gold counterparts. The Silver Eagle has been produced at three different mints including the Philadelphia Mint, the San Francisco Mint, and the West Point Mint. Shown here is an image of the newly-released 2018 Proof 70 Silver Eagle minted at the West Point Mint - noted by the "W" mint-mark on the reverse of the coin.
Even though these coins are slabbed for collection they are still legal tender and will always be worth at a minimum, the value of an uncertified example. In recent years there has been very strong demand for American Silver Eagles, in fact, NO Proof Silver Eagles were issued in 2009 due to unprecedented demand for silver coinage around the world and shortage of physical silver and manpower to create the collector versions.
Both Proof and uncirculated versions of American Eagle coins are issued to meet sufficient investor demand. Some years, demand is lower causing those years to have a lower overall mintage. Moving forward, these lower-mintage issues typically offer collectors a great value, particularly when they're acquiring the coins upon their initial release, before mintages are released and before premiums arise in the secondary collector marketplace.
A good example of this is the 1995-W Proof Silver Eagle--that year, 30,000 Proof Silver Eagles were issued with the "W" mint-mark and these coins could only be acquired when collectors bought the four-coin Gold American Eagle Proof Set. The mint decided to include the Silver Eagle as a bonus and when collectors realized how few of them there really were, prices skyrocketed. The single coin is now worth more than all the other four gold coins combined!