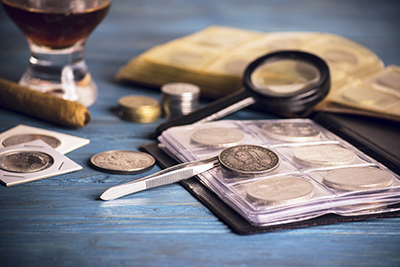 Inside This Report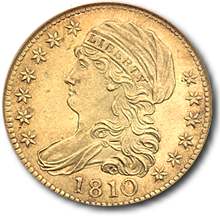 There's far more interest in collecting rare coins than in just owning ordinary gold bullion. Let's take for example the 1810 Capped Bust to the right, $5 gold piece shown here.
Can you imagine owning a gold coin dating back to 1810? Coins just like this one were carried in the pockets of famous Americans like George Washington, Thomas Jefferson, and Abraham Lincoln. But today, only a handful have survived the test of time.
We sold this MS-60 coin a few years ago for $9,000. Today, we would sell it for $11,000 or more--- if we could find one. Naturally, an extremely rare coin like this is collected by numismatists and what we call the "Super Collector." It takes a dedicated coin firm like Austin Rare Coins, Inc. to locate and place a coin like this with one of our collectors.
Rare Pre-1933 Gold Coins
There are many other gold coins dating in the 1849 to 1933 which are less rare, yet affordably priced in the $915 to $1595 range. Many "gold bugs" prefer the larger $20 gold coins like the Liberty or Saint Gaudens which contain .9675 troy ounces of pure gold.
Every one that has been preserved in Brilliant Uncirculated, Mint Condition sells for at least several times its weight in gold or silver alone. While these big, classic, US gold coins have an underlying gold value, collectors are eager and willing to pay premiums beyond that for the privilege of owning a piece of American history.
Collectors prize coins as beautiful works of art and rare antiques from the 18th and 19th century. As you might expect, the better preserved condition each coin is, the more collectors are willing to pay for it. Quality is measured on a the official scale of 1 to 70, with the grade of one being barely recognizable to a perfect Mint State 70.
The second biggest factor that makes one gold coin worth $1,000 and another worth $25,000 is the rarity of a coin. Collectors always want to own what other people cannot have – so the harder a coin is to find. Therefore, the more collectors are willing to pay.
Quality and rarity were once blurred, poorly documented concepts. But with the creation of PCGS and NGC grading services, independent coin experts establish the grade of each coin. Since 1986, careful records have been kept for each coin series by individual date. This gives the buyer and seller a way to compare price, value, quality, and rarity among coins.


The Hobby of Kings
Once coin collecting was known as the "Hobby of Kings." But today, interesting and collectible gold coins trade in all price ranges and anyone who has accumulated a little savings can collect US coins.
Super Collectors who are building million dollar collections can afford to pay more per coin for the rarest and hardest to find examples. If they own a coin so rare that only five are known to exist, they will tend to command and control the price of that coin. A classic example of supply and demand economics.
However, great coins don't have to be expensive. You might be surprised to learn that gold coins dating back to before the Civil War can still be acquired today for under $1,000. Many people enjoy collecting coins from this unique era in American history. Collectors often focus on rarer, harder to find examples from the long-closed US Mints in New Orleans, LA, Charlotte, NC, and Dahlonega, GA.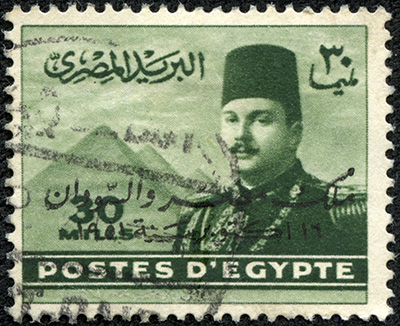 King Farouk of Egypt was one of the greatest coin collectors of all time. His remarkable collection comprised more than 8,500 Gold coins.


Not Just for Fun Anymore
Over the years, US coins have been systematically accumulated by individuals, serious rare coin collectors, museums, and those interested only in investing.
While we often recommend a minimum holding period of 5 to 7 years for most coins, the truth is that the vast majority of US rare coins are locked away, hidden in safety deposit boxes for decades. Many remain in permanent family collections for generations.
For that reason, while you may know how many coins of a particular date and grade have been certified and graded, the number coming to market at any one time is just a tiny percentage of the total.
The Basics of Coin Collecting
Before you get started with building a coin collection, here are the key points to learn and remember:

Strong Demand For Coins – Today, there's a strong and growing base of coin collectors in the United States. In the 1980s, dealers estimated the number of US coin collectors at 5 to 10 million. Since 1999, the US Mint reports that 139 million Americans are collecting coins. Many get started with State Quarters and soon discover the joys of Pre-1964 Silver Coins and silver dollars or jump right into collecting Pre-1993 US Gold Coins. In addition, the massive shift of wealth to Far East nations has also brought many new coin collectors from Japan, China, and Asia.

Collector Appeal – People collect coins for many reasons including fun and profit. Some collectors want only silver dollars, others collect only gold coins. History buffs love coins from famous 19th Century shipwrecks, the Western Frontier days, or coins struck around the Civil War. Finding a particular area that interests you adds greatly to the pleasure of building a collection of coins. You are rewarded with the pleasure of enjoying the coins while you own them.

An Affordable Hobby – Some coins we offer are so rare that they are one of the five finest known to exist and can sell for hundreds of thousands of dollars. These are prohibitively expensive to most collectors. These are for Super Collectors and trade among the "Super Coin Companies" like Austin Rare Coins, Inc. However, many "Better Date" and relatively "scarce" gold coins are attractively priced today between $500 and $3,500. Mint Condition silver dollars dating 1878 to 1921 trade for around $50 each, making it easy to build a nice set. The upscale, Gem Mint silver dollars MS-65+ are still under $100. But in today's hot silver market, prices are sure to continue rising.

State of Preservation – Grading is the single most important factor in pricing a rare coin. Coins are graded based on the number of scratches and amount of wear. The Sheldon Scale ranks coins from a nearly worn out 1 to a perfect 70. While you may not be able to afford "perfect" coins, we recommend you acquire the rarest and best quality coins you can comfortably afford.

Eye Appeal – One of the factors that distinguishes Austin Rare Coins, Inc. from others is our attention to detail. Our Buying Trust carefully handpicks each coin we offer for great eye appeal and avoids coins with unsightly toning or rust spots. Ugly, unattractive coins that we refuse to buy are often dumped on an unsuspecting public at internet auctions and Ebay. Eye appeal today is more important than it's ever been before. Warning: Bad looking coins are difficult to sell later while the nicest coins will always command the best prices and be the easiest to sell.

Certification of Grade – Instead of depending on a buyer's or seller's opinion of a coin's grade, you should acquire primarily investment grade coins. These have been certified authentic and graded by a trusted, independent grading service. PCGS and NGC provide the most respected grading services in the rare coin industry. Today most investment coins we offer are graded by one of these two leading authorities.