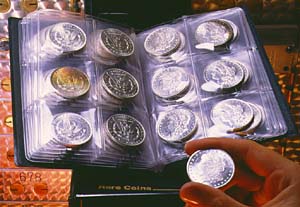 All About Silver Dollar Sets
Building a set of Morgan Silver Dollars of Peace Silver Dollars begins the moment you acquire your very first one. From even a humble beginning, many coin collectors have gone on to build a set of silver dollars that later proved to be worth a small fortune.
Enhanced Value in Sets
For many reasons, not the least of which is profit oriented, we highly recommend you save silver dollar coins with an intention to build sets. The value of owning one Silver Dollar is multiplied dramatically when you build complete sets.

With a long-term goal in mind, you can add appreciably to the value of your silver dollar collection while further enhancing your enjoyment of the hobby.
Build Your Set Slowly - and Watch it Grow
Traditionally, Morgan Silver Dollar or Peace Silver Dollar Sets are built in many ways. You can save silver dollars from one particular mint, or you can acquire one silver dollar from each of the five different US Mints.

In the beginning of building your silver dollar coin set, we recommend that you start slow with the more affordable U.S. silver dollars. Call a Silver Coin Advisor today at Austin Rare Coins for a list of Silver Dollars that are in inventory and available at this time. Our toll free number is 1-800-928-6468.


Purchase Morgan Silver Dollars