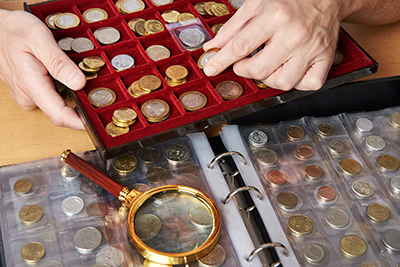 Inside This Report
When you're ready to sell your rare coins, we ask for the first opportunity to buy them from you. We buy a rare coin for every coin we sell and we usually know the market best for coins within our specialization.
Selling On Computerized Trading Networks
If you're in a hurry, you can find computerized trading network of 325 dealers. But, be very careful! We have seen many people get scammed and places commonly mark up their precious metals to around 35-40% while claiming in radio ads they sell at nearly wholesale levels. They are con artists who will say anything to get your coins. You might be better off selling your coins on an Internet Auction site, but again be very careful of the high rates that they charge.
Maximize Profits At Auctions
Given time, you can take your portfolio into the market and shop for the best prices. With larger collections of extremely rare coins, you can sometimes maximize your selling prices by liquidating in a major rare coin auction. We are not required to repurchase coins nor are you obligated to sell your coins back to us. You are always free to sell your coins anywhere, at any time, for top dollar.
Gold Bullion Adds Liquidity
When building a balanced, diversified coin collection we often recommend a core holding of gold bullion, popular date, or generic gold coins. These are less expensive gold coins, very easy to sell in most markets, and provide better immediate liquidity than rare coins in the event you need to raise cash quickly or unexpectedly.
Rare Coins, For the Long Haul
By contrast, we feel many US Rare Coins should be considered long-term investments with a holding period of at least 3 to 5 years. Time is always the best friend of any collector and it may take a longer holding period to reach a point where your coins enjoy significant appreciation and overcome the original buy/sell spreads which can be larger than typically found with other investments.
Rare coins are not a suitable investment for everyone. They go down as well as up in value.
If you have questions, ask us before you invest a dime. Austin Rare Advisors are here to help you sell your coins. We let you take advantage of our decades of experience. While no one can guarantee you'll be able to sell your coins for a profit later or what level of profits you'll obtain, we'll always try our best to get you a fair offer for your coins! This is whether you purchased your coins from us or not.
If you're interested in selling your rare coin collection
Call an Austin Advisor
Or Meet with one By Appointment Only
1-800-928-6468

Fill out the form below and give us an idea of what you have.