Insist on Certified Coins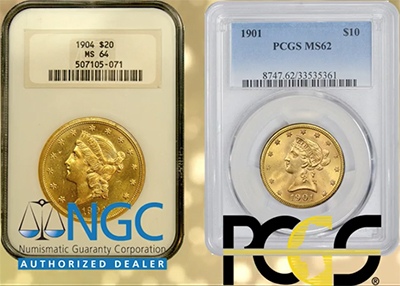 Inside This Report

• The Sheldon Scale of Coin Grades
• How Coins are Graded
• Why You Must Own Certified Coins
When the US Rare Coin market was limited to a small number of numismatists trading with each other, three broad definitions were enough to determine the grade of a coin:
Good – a coin that's worn with most of the detail intact.
Fine – a coin with clear detail and some luster on its surfaces.
Uncirculated – a coin which had never been in general circulation and therefore retained its Mint State condition.
As the market grew, coin collectors realized that some "fine" coins were "finer" than others. Even some uncirculated coins rose above the rest in detail, luster, and general appearance. Soon terms such as Very Fine and Extra Fine began to emerge, as coin collectors sought to more sharply define the condition of their coins and increase their value.
The Official Coin Grading Scale

In 1948, Dr. William Sheldon, a widely renowned numismatist, developed the Sheldon Scale, assigning grades from 1 through 70 to coins, a scale that remains to this day.
The biggest problem the industry faced back then was the varying grades that different dealers assigned to the same coin. Since the grade determined a fair price, assigning a consistent grade was paramount.
PCGS & NGC Independent Grading
This led in 1986 to the advent of third-party grading– an assessment of a coin's physical condition, backed by a national network of reputable rare coin dealers.
Over the years, the Professional Coin Grading Service, PCGS and the Numismatic Guaranty Corp, NGC were formed to independently grade and guarantee the authenticity of coins. Austin Rare Coin is proud to be a member of both of these dealer networks.
While this system is not perfect, and grading standards can vary over time, this remains the most trusted way to buy and sell coins developed to date.
How Are Coins Graded?
In the grading room, some of the world's most knowledgeable and experienced numismatists work independently. Each one studies the characteristics and physical condition of each coin. A series of graders enter their independent determinations of grade in a database until a consensus is reached and the final grade is assigned. In addition to their high level of training, graders rely on comprehensive grading sets to maintain a high level of consistency.
To assure the quality and authenticity of each coin, immediately upon grading, each "Certified Coin" is placed in a sealed holder with a grading certificate and unique ID number assigned to each coin. These tamper proof holders are the key to grading while providing ideal protection for the safe, long term storage of coins.
Certified Coins & Computerized Trading
Most US Rare Coins that trade sight-unseen on computerized networks are graded by PCGS or NGC. Most of these coins are suitable for investments, assuming you pay a fair price.
However, many coins that are highly collectible are not certified. Often the cost of grading that ranges from $5 to $35 is far more than the lower grade coins are worth. Also damaged and cleaned coins will not be graded by PCGS or NGC. Austin Rare Coins buys and sells some "raw" uncertified coins online but they will always be modern coins or bullion-related coins that are not rare and sell primarily for the precious metal's content alone.
Investors Insist on Expert Third Party Grading
A word of warning about auctions and Ebay. When you purchase coins that are not certified, you rely entirely upon the honesty and reputation of the dealer to stand behind the grade. The concept never worked before PCGS and NGC were created because it's just too tempting for collectors to over-evaluate the condition and the unaware buyer to be cheated. While you should not worry about grading from Austin Rare Coins & Bullion or other major coin dealers, we would warn you about the pitfalls of buying uncertified coins and silver dollars. There is no Santa Claus in the rare coin business. Cheap coins are almost never bargains.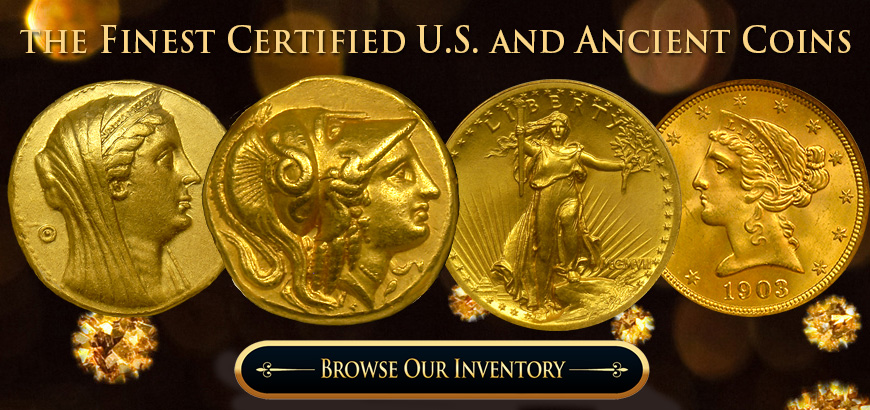 Certified Coins Are Easier To Sell
Why is coin grading more important today than ever before? Because a slight difference in the grade of a rare coin can increase its value by hundreds, even thousands of dollars. Establishing the official grade provides the only way to measure the fair price and true value of a rare coin. Here are some of our latest top Certified US Rare Coins & our latest top Certified Ancient Coins!
We believe that PCGS and NGC graded coins offer you many advantages when you're ready to sell your coins later. In fact, millions of dollars worth of rare coins trade "sight-unseen" every month based on certified grading, and dealers will automatically buy back many coins and provide quotes over the phone or by email, making it much easier to liquidate your collection.
Solid NGC/PCGS Guarantees
Buying only certified coins gives you an additional level of safety and protection. Best of all, certified coins are backed by guarantees as to the authenticity of the coin.