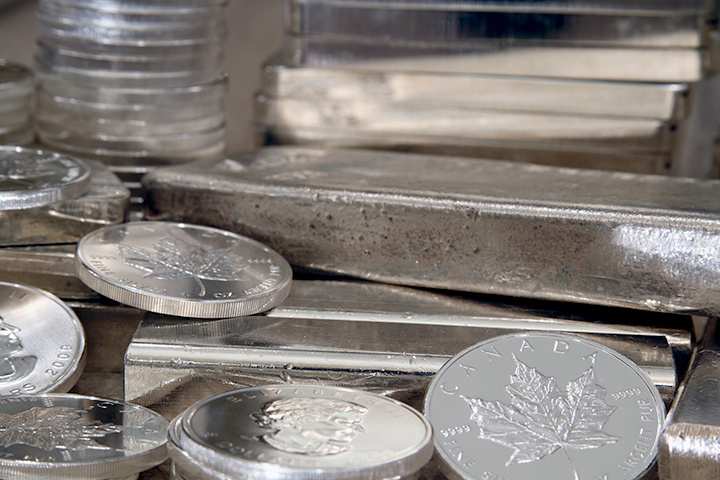 Over the weekend of January 31st, the silver bullion market caught fire. In this Silver Market Update you'll find the "reddit crowd", the same folks that fueled the Gamestop stock frenzy shifted their attention to the silver bullion market. They went after the ETF for silver (SLV), and silver mining stocks. As a result, the price of silver jumped 8% on Monday and many silver stocks surged as much as 40% in a day. Then, as quickly as it started, the price of silver subsided Monday evening into Tuesday. This was a direct result of the futures market raising margin requirements on silver contracts
Over the course of the week, the Silver price has since come down to levels before it started--as if nothing had happened. SLV and silver stocks came back to their pre-frenzy levels, and it seemed like a flash in the pan.
The Roller Coaster Price of SLV
The price action in SLV and silver stocks was very short-lived. The effect on the physical silver coin and bullion market was definitive and absolute. Over the same weekend Austin Rare Coins, along with every other bullion dealer in the country, witnessed a frenzy in online orders. The Silver Market Update has never seen a rush to silver like we recently witnessed. New and existing customers were scrambling to place orders for physical silver coins. In fact, we had over 25X the normal number or orders over the weekend we normally see.
As a result of 25X normal orders, on top of an already hot silver bullion market, all silver inventories across the country were vaporized. Silver premiums were forced higher, because everybody wanted it and nobody had it.
It is nearly impossible at this moment to get any silver for immediate delivery and for any less than $4 over the "paper silver" price. Top-tier silver Eagles are selling for $8 to $10 over spot on a retail level and even 100 Oz. Bars cost nearly $4 over spot.
History repeating itself
Is history repeating itself? Well, the same thing happened back in 2008 and again in 2011! Physical buying went through the roof and premiums for real silver were far higher than the "paper price" illusion. It happened because we are witnessing extraordinary times.

In this Silver Market Update one thing is for sure—it doesn't take much interest from the retail public to dry up silver inventories! All around the world and we are left with the question, "What is silver REALLY worth?"
If you need some assistance buying silver today, call us at 1-800-928-6468. We are fortunate to have access to products that many dealers can't find and we are constantly buying silver from our tens of thousands of clients. Many of them who have owned it since it was $5 an ounce. Call us for up to the minute pricing and availability.

Here are our Best Silver Buys at the moment...