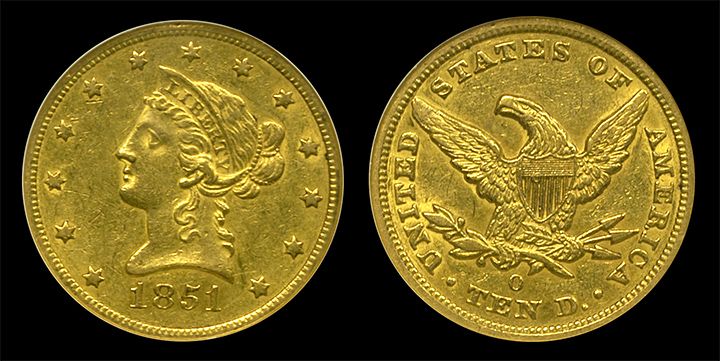 The Liberty $10 gold piece's worth is a lot higher than just its face value. The rare coin market has been expanding in the past few years and the price of gold has been going up. The values of those holding onto Liberty $10 gold coins have also gone up. Today, a coin, even if it isn't a very rare one, can easily be worth a minimum of $821! Importantly, these coins are always popular, well loved, and in demand.
However, if the Liberty $10 Gold Piece is a rarer coin, it can be worth much more. In our opinion, Pre-Civil War New Orleans Mint Eagles are undervalued in the current marketplace. Each coin contains just under a half-ounce of gold. They are fundamentally rare and beautiful pieces of US history and money.
Gracing the obverse of this stunning coin you'll find a neoclassical rendition of Lady Liberty. Designed by Christian Gobrecth, Lady Liberty is depicted in profile. She is wearing a crown with the inscription "Liberty," and has her long hair up, instead of free flowing. Along the outer edge of the coin are thirteen stars that represent the original thirteen US colonies. Christian Gobrecht was the third Chief Engraver of the United States Mint from 1840 until his death in 1844.
Displayed on the reverse side of the Liberty $10 Gold Piece is a traditional Heraldic Eagle. The US national bird is suspended in flight with its wings open at full span. In the eagle's right talons is an olive branch, and in the left, a bundle of arrows.
The 1851 O $10 Gold Liberty AU 53
The 1851 O $10 Gold Liberty AU 53 is a great coin for the money. There were 263,000 of these coins minted. However, between PCGS and NGC combined, only around 1,600 are certified! This includes ALL grades combined. Only 20 or so of these are in mint condition! Needles to say, this is a tough coin to find in high grades. Graded by NGC in AU53 condition this particular coins shown in the video below, comes with a CAC sticker. In short, this confirms the NGC grade even further.
Liberty $10 Gold Piece Worth differ from coin to coin. Therefore, If you have questions let us help. Our team of Gold, Silver, Rare Coin, and Ancient Coin advisors are here for you! Call us at 1-800-928-6468.