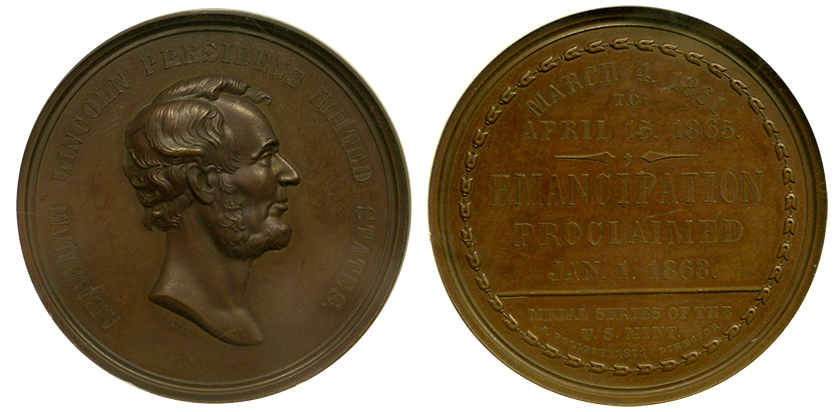 Are you curious? Did the Emancipation Proclamation free any slaves? The correct answer would be that it "did not free all slaves in the United States. Rather, it declared free only those slaves living in states not under Union control."

This beauty was struck nearly 150 years ago, but looks like it was struck only yesterday! The 1871 Bronze Emancipation Proclamation Medal made because of this monumental occasion is simply stunning. Unbelievable, that the US mint made it to commemorate Lincoln.
This medal is a great buy with a quality second to none and the overall coloration very attractive. This is the Only Emancipation Proclamation medal available at Austin Rare Coins and very few of these even exist. We have never even seen one, particularly in such a high grade.
Superb value for the money, and only one available. Call to find out more about this US Rare Coin gem, because our Austin Coin Dealer are there to help unlike other Coin Dealers. When you ask, Did the Emancipation Proclamation free any slaves? Someone at Austin Rare Coins can help you with the answer. Even if you have other questions about coins you are thinking about call us at 1-800-928-6468!
Here are some US coins most commonly used for investing and collecting. We've put them into six key areas that are popular among US Coin Collectors:
US Gold Coins: Coins minted before 1933, including
Pre-Civil War and Civil War Era Gold Coins.
19th Century & Earlier Type Coins: This would include coins minted from the late 1700's through 1899.
Silver Dollars: Morgan Silver Dollars from 1878-1921, Peace Silver Dollars issued from 1921 to 1934.
Commemoratives: Coins specifically struck in low mintages to commemorate historic events.
20th Century Type Coins: Before 1965, including Silver Dimes, Quarters, Nickels, and pennies.
Current Issues: all circulating coins you can get at any local bank would be current issues.