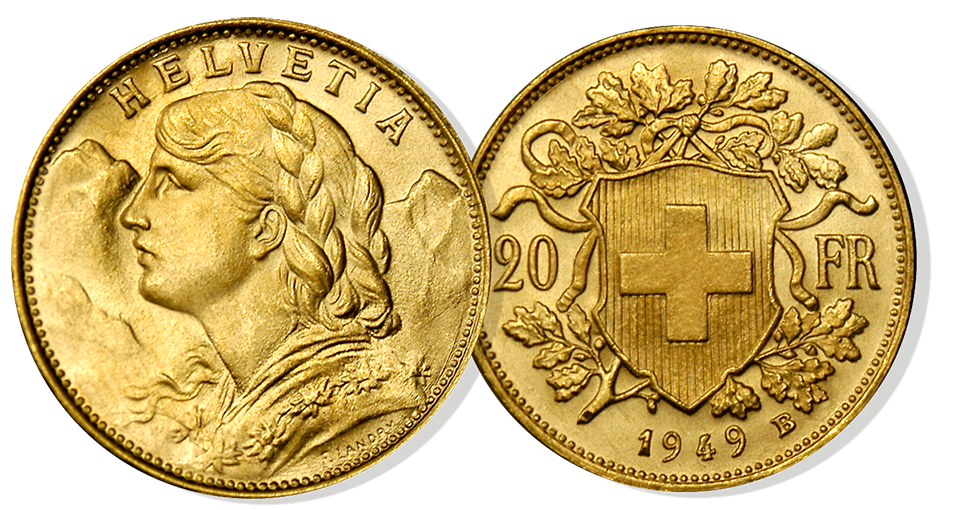 The Swiss 20 Franc Helvetia gold coin represents Swiss stability and credibility. Furthermore, it has a long history dating back to the nineteenth century. Switzerland was undergoing a substantial economic and political transition in the mid-1800s. The country was transitioning from a rural, agricultural-based society to a more industrialized one. The government was keen to establish a strong, stable currency to help facilitate this transformation.
In 1850, Switzerland adopted the Swiss franc as its official currency. Most significantly, it swiftly established itself as one of the world's most stable and dependable currencies. The government then decided to issue gold coins in 10 and 20 francs denominations. Therefore, complementing the existing silver and copper coins in circulation.
The decision to mint fractional gold coins was a practical one. Gold was a scarce commodity at the time, and issuing smaller coins allowed more people to access gold as an investment. The Swiss 20 Franc Helvetia gold coin was originally issued in 1897 and was made of.1867-oz. gold. Because of its worth, age, limited availability, and adaptability, it immediately became popular with investors and collectors alike.
A tradition of stability and dependability
The Swiss have traditionally been recognized for their stability and dependability. This notoriety has even extended to their currencies and coins. The Swiss 20 Franc Helvetia gold coin exemplifies this legacy.
In conclusion, the Swiss 20 Franc Helvetia gold coin has a rich history as a symbol of Swiss stability and credibility. These fractional coins have maintained their popularity due to their value, age, limited supply, and versatility as an investment option. The Swiss have a long history of political neutrality, economic stability, and a strong banking system.
Additionally, it has made their currency and gold coins highly sought after by investors around the world. As investors continue to seek out safe-haven assets during uncertain times, the Swiss 20 Franc Helvetia gold coin remains a solid choice.