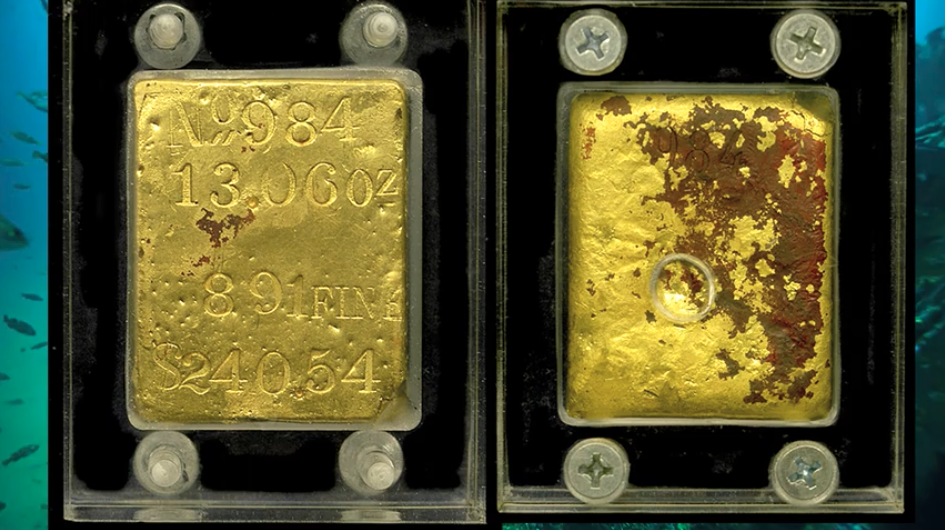 Occasionally customers call and ask us, "Can I buy gold ingots?" Many of them are especially interested in gold ingots from the SS Central American Shipwreck. What's interesting is where these gold ingots came from—The California Gold rush. It was a very fascinating time in American History.
This is when massive fortunes were made and lost. Most importantly, gold remained a testament to this exciting time period. Prospectors were frantic to discover it. They took gold nuggets in rocks to gold dust in rivers. This raw gold was turned into gold coins and bars—called ingots.
The gold was first mined in the California Hills and then taken to private refiners or assayers. They would weigh the gold and estimate its purity. Furthermore, it paid the miners for their hard work. The gold was amassed by the refiners, so the assayers could melt and refine it. As a result, ingots of different weights and sizes were assembled.
Once the San Francisco Mint opened in 1854, the US finally had a reliable means of minting the raw gold locally. They would turn it into US currency. However, until that time, assayers and refiners were the only game in town. One of these refiners, Kellogg and Humbert, was very prominent in the mining community.
Coins from Kellogg and Humbert still survive to this day. They also made ingots, but for the longest time none were ever found. This all changed when the SS Central America was recovered around the year 2000. There was finally proof that gold ingot bars made by Kellogg and Humbert existed. The question, "Can I buy gold ingots?", could finally be answered.
The SS Central America
The SS Central America was a steamship that set sail from California headed for the East Coast. It was loaded with thousands of freshly minted gold coins. It also had large amounts of raw gold and gold bars. Unexpectedly, it hit a hurricane in September of 1857. The storm caused it to sink to the bottom of the Atlantic Ocean. There it would remain hidden with its treasures for nearly 145 years.
When it was finally found researchers were excited to find hundreds of never before seen gold ingots. Below there is a video of one of them that recently sold. It is from the prominent California Assayers Kellogg and Humbert. Their name is carved on the side of the gold bar. Along with the assayer name there is an item number (No. 984). There is also the weight (13.06 oz.). The purity (.891 fine), and the dollar value at the time ($240.54).
So, when someone ask us, "Can I buy gold ingots?" We can honestly say yes. One was just sold to a private Houston collector who dreamt of owning a gold rush ingot his entire life. We were more than happy to find it for him.
If you're looking for an authentic Gold Rush treasure call us at 1-800-928-6468. Let our team find exactly what you're looking for. Austin Rare Coins & Bullion handles premier Shipwreck Gold & Silver Coins recovered from the four most famous shipwrecks in numismatic history. We have made many people's dreams of owning a piece of history come true. Let us make your dreams come true as well.