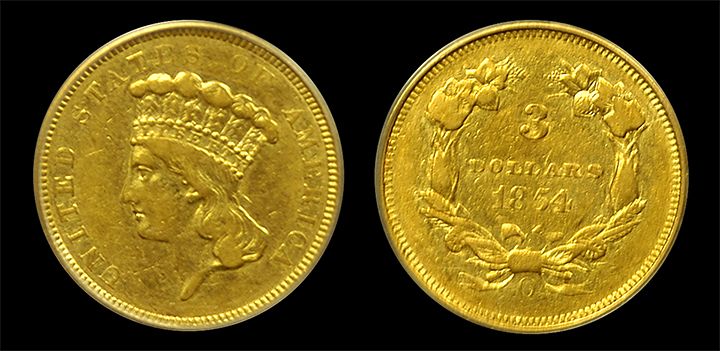 The rarest pre-1933 US gold coin is the Three-Dollar gold piece. To clarify, only 539,792 of them were produced according to the US Mint. The reason there were so few made is because the Three-Dollar gold coins were very unpopular. Basically, the public rejected them when they were introduced in 1854. Therefore, only small mintages of these coins were produced from 1854 to 1889. Similarly, They ended production after just 35 years. This total of just over half a million coins were produced at the US Mint facilities in Philadelphia, New Orleans, San Francisco and Dahlonega combined.
Many of these 3 Dollar coins have been destroyed or lost throughout the years. Trying to find them at any condition can be difficult as very few are in existence today. Take the coin in the video below for example. This $3 princess was struck in New Orleans in 1854. No other $3 coins were issued with the O Mint mark. These coins are definitely rare and desirable in any condition. Only a total of 24,000 of them were struck and only around 1,500 of them have been certified in all grades combined!
3 Dollar Gold Piece Design
The Three-Dollar gold piece was designed by James B. Longacre, and for the first time he had been allowed to choose his own design. In the past, James had always been directed as to what design to use. Longacre decided to create something truly American. He wanted to represent America with a female Native American, or Indian princess, dating back to the 16th century. For example, the image of the Indian princess survived in the popular view of figures such as Pocahontas and Sacagawea. In addition, the US Mint issued the Sacagawea Golden Dollar from 2000 to 2008.

On the reverse of the Three-Dollar gold piece you'll find a wreath comprised of tobacco, wheat, corn, and cotton. In addition, it encircles the date and the words 3 Dollars. You can find out how to purchase 3 Dollar coins for your own collection at Austin Rare Coins & Bullion!