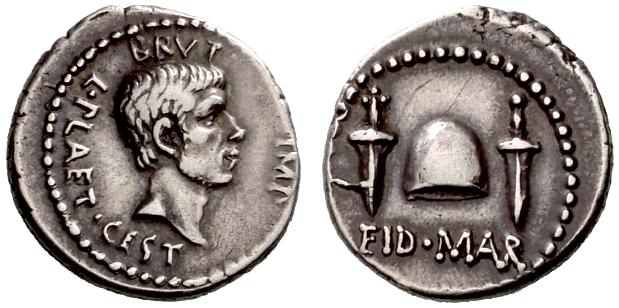 Rare Ancient Roman Coins to own date back over 2,000 years. They have become very popular. Many investors and collector are anxious to collect and own them today. Holding something that was around so long ago is a feeling like no other. A base of collectors from all over the world have evolved. They enjoy putting together collections of ancient coins that they find very special, enjoyable, and potentially highly profitable.

Of course, not all Ancient Coins are as rare as others. Truly rare Ancient Roman Coins are far and few between. Ever Increasing demand puts pressure on the extremely limited supplies. Those in excellent condition, that only have a smaller number known to exist, are ones to own. The most desirable are worth the most money.
One of the most famous ancient coins is the Ides of March Denarius. It has a rich history of Brutus's assassination of Julius Caesar. Only 80 specimens are known to exist in the world today. Simply put, there are far more collectors wanting to own one than there are coins in existence. Therefore, it is not uncommon to find a multiple six figure price tag for such a coin.
Reasons to Own Rare Ancient Coins
Ancient coins are portable, private stores of wealth.
They have very limited supplies and a growing demand from investors and collectors.
Ancient coins are non-reportable and non-confiscatable.
Ancient coins unearthed overseas are being seized by Dept. of Antiquities, limiting future supplies in the marketplace.
If you're interested about learning more about Ancient Roman Coinage you should request a free copy of our 8 page Ancient Coin Report. Call 1-800-928-6468 and talk to an Ancient Coin Advisor at Austin Rare Coins & Bullion. They're more than happy to assist you in finding the exact Ancient Roman Coins that you are looking for.