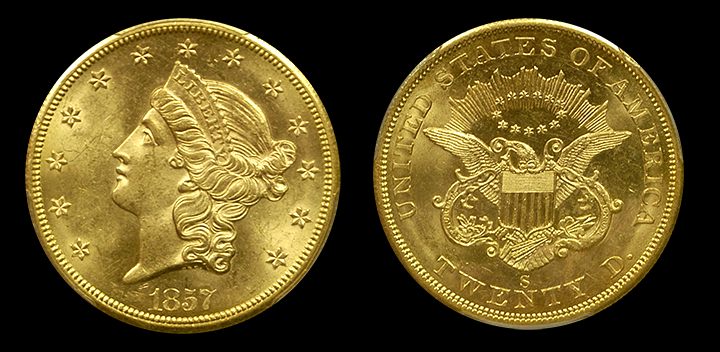 Be careful trying to buy coins that are supposed to be from a famous shipwreck. How to identify a shipwreck coin should be left to the experts. It is hard to determine if a coin is a shipwreck coin just by looking at it. How is the average person supposed to know if a coin was hidden in a shipwreck for over a hundreds of years? Even if a coin is actually from a shipwreck it could be in terrible condition and not worth very much. However, those salvaged in good to excellent condition can be worth a lot of money. Especially, if they are a from a rare date and only a few surviving coins actually exist.
Austin Rare Coins & Bullion is one of the premier shipwreck coin dealers in the United States. They know how to identify a shipwreck coin. In fact, they specialize in high-end shipwreck coins dating back to 1845. Above all, they only deal in shipwreck coins certified and authenticated by NGC or PCGS. These two top coin grading corporations are the best known and trusted in the business.
The S.S. Central America
Usually, premier shipwreck gold and silver that has been salvaged in good and very good condition come from one of the four major U.S. shipwrecks. For example, the S.S. Central America, otherwise known as "The Ship of Gold" sank off the Carolinas in 1857 in a terrible hurricane. It is probably one of the best known shipwrecks due to the amount of treasure found onboard. 133 years after it sank, the S.S. Central America was located by the Columbus-America Discover Group of Ohio. Thanks to the recent advent of underwater robots, items from this famous shipwrecks were brought to the surface and saved. The newest deep sea recovery technology was utilized to bring up and preserve these historic, National Treasures.
Austin Rare Coins was one of the few companies to offer sunken coin treasure from The S.S. Central America. Moreover, they offer the American public a rare opportunity to acquire a rare shipwreck coin from this important piece of California Gold Rush history. Each coin in this exclusive release comes sealed in a specially-designed PCGS holder to protect the intricate details of the coin. In addition, each holder contains a pinch of gold dust recovered from the shipwreck.
Other Shipwreck Coins
Austin Rare Coins feature gold and and silver shipwrecked coins from other shipwrecks as well. Over the past two decades they've handled rare coins from the S.S. Brother Jonathan of 1865, the S.S. Republic of 1865, and the S.S. New York of 1845. All of the coins they handle are original, certified shipwreck recovered coins. It is worthy to note, Austin Rare Coins has been involved with every major shipwreck offering since the 1990s.
If you're interested in learning more about historically significant shipwreck coinage you should request our Shipwreck Collection Report. Importantly, it will help you how to identify a shipwreck coin. That is to say, it is loaded with U.S. shipwreck history, pictures, and descriptions to give you a solid foundation of knowledge and ideas. In conclusion, if you have questions or need assistance on where to start, just give us a call, we're happy to help. 1-800-928-6468