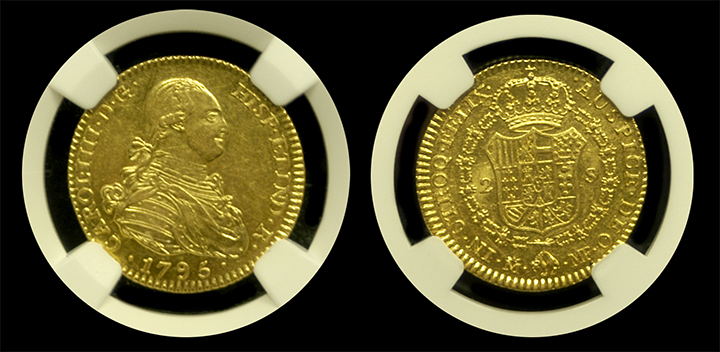 A common question we get is "What is a Spanish Escudo coin?" The Escudo was and is Spanish currency. Escudos comes in both gold and silver. Interestingly, the first Escudo gold coins were introduced in 1535/1537. They were issued in denominations of 1⁄2, 1, 2, 4 and 8 Escudos. In addition, the 2 Escudos coins were commonly known as Doubloons and worth 16 reales.
Gold Escudos were issued until 1833. They are beautiful coins with great attention to detail. As a result, these gold coins from Spain in the 1790's have remarkable eye appeal. Today's coin collectors and investors love the rarity and value found in gold Escudos. In fact, Gold Escudos are some of our best selling coins at Austin Rare Coins.
Silver Escudos were also circulated throughout Spain and its colonies. To be specific, Silver Escudos were currency of Spain between 1864 and 1869. "The escudo replaced the Real at a rate of 10 reales = 1 escudo."
2 Escudo gold coins are also referred to as Doubloons and are worth approximately 32 reales. They weigh 6.766 grams, or 0.218 troy ounces of 22-karat gold. 2 Escudos were minted in Spain and also Spain's viceroyalties. The viceroyalties included Mexico, Peru, modern-day Colombia, Ecuador, Panama, and Venezuela. It is interesting to note, the Escudo replaced heavier gold excelente as the Spain's standard gold coin. Therefore, doubloons succeeded the doble excelente or double-ducat denomination.
1795 Spanish 2 Escudo
Below is a video of a 2 Escudo currently for sale at Austin Rare Coins. Amazingly, this is one of just 14 coins like this ever graded. There is only one in this Mint-State 61 grade and only one finer certified by NGC. We love the rarity and value to be found in this 2 Escudo gold from this timeframe, particularly at this attractive price point.
On the front side you will find the draped profile bust of Charles IV facing to the right. Meanwhile on the reverse there is a shield just below a crown within the Golden Fleece Order collar. This is definitely a beautiful rare gold coin and should answer the question "What is a Spanish Escudo coin?"