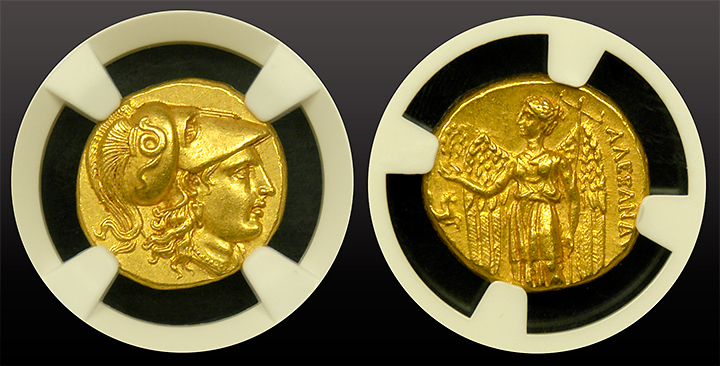 The world's first coins were minted in ancient Lydia. Lydia's King Croesus became the first ruler to separate gold from other metals. He issued the world's first pure gold and pure silver coins. The Persian Empire, also known as the Achaemenid Empire, took up the idea of coinage upon defeating King Croesus in 547 B.C. However, it wasn't until Alexander the Great of the Macedonian Empire, who conquered the Persian Empire, that the first international currency evolved. In fact, some believe that Alexander was the father of the first international currency.

Alexander ascended to the throne in 336 BC following the assassination of his father Philip II. He became king at the very young age of 20. In addition, Alexander adopted the Attic coinage standard. Unfortunately, Alexander spent his ruling years conducting lengthy military campaigns and really didn't get to enjoy his conquest much. He was always too busy conquering more lands throughout Western Asia and Egypt.
Alexander's importance to the history of coinage must be noted. After he became ruler of such a vast empire, he realize the necessity of successfully trading currency throughout his lands. Most importantly, once Alexander conquer an area he issued and circulated his own coins. Gradually, his huge empire became uniform in its currency. However, some stylistic variations are due to the hundreds of mints throughout Europe and Asia. Of course, this was inevitable due to the vast region of his empire. It stretched from the borders of India and inner Afghanistan in the east to the Adriatic Sea in the west and from Egypt in the south to the coasts of the Black Sea in the north.
Coinage as Political Propaganda
Coinage as political propaganda became an integral part of warfare in the ancient world. Alexander became the inventor of mass-marketing his face or the faces of the gods he believed in. He realized the importance of someone coming into power needed to reach everyone in his empire. Just like today's television, radio, and billboards, Alexander's coinage was in everyone's hands and had a far-reaching impact. ( Check out this beautiful coin during Alexander's reign in the video below)
Even after Alexander's death, his generals launched perhaps the greatest and most widespread use of coinage as propaganda. They divided Alexander's Empire, but still used coins with Alexander's image. In fact, they pictured him as a good-looking, divine, powerful ruler. Not only were Alexander's coins minted during his lifetime, but his image adorned coins for two decades following his death. As a result, Macedonian generals who divided the empire into separate Hellenistic kingdoms continued to identify the great ruler Alexander.
As time went by, new kings came into power and minted their own coinage. However, Alexander's coinage lived on for two centuries. For the very first time, his coins were issued by independent cities as the first international currency.