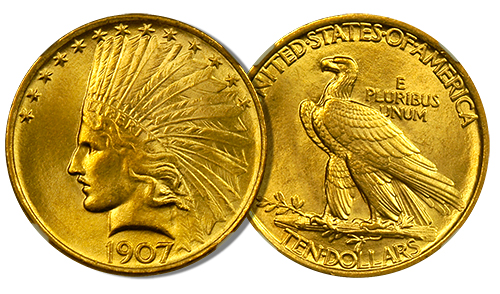 US President Theodore Roosevelt was tired of minting the same old gold eagle and double eagle coins. To paraphrase President Roosevelt, the country needed a US gold coin redesign. In short, he had long been complaining that US coins lacked artistic quality. In fact, he decided to hire a private sculptor to create a new design. Augustus Saint-Gaudens was chosen to redesign five denominations of US coinage that could be changed without an Act of Congress.
Roosevelt's broad overhaul of the United States gold coins led to a new Lady Liberty. One wearing a traditional Native American Indian Headdress. In 1907, the new $10 coin with the new Lady Liberty wearing the Indian Headdress was unveiled. The coin became a huge success.
The $5 and $2 1/2 dollar gold coins were also revamped. They depicted an Indian Chief that also employed a fancy new design feature. These coins employed an "incuse" design. To clarify, the details were carved into the surface of the coin. This meant, the lines of the design, the figures, and the letters were depressed or incused. This was instead of using the common practice of being raised or in relief.

Roosevelt's introduction a US gold coin redesign was such a novel idea in coinage, that it seemed to please everyone. It was artistically accepted and was well adaptable to business needs at hand.
1907 $10 Indian Gold Coin
The 1907 $10 Indian Gold Coin is magnificent in all regards. Like a miniature sculpture, it commands attention. Certainly, it is a reminder of the greatness of the United States. The US gold coin redesign by Augustus St. Gaudens under the authority of Theodore Roosevelt nailed it. Moreover, it is a show stopper.

The example we have in the video below is in the very high grade of Mint State 66. Only 41 coins are known finer than this one.